Good morning, class.
On April 23, 2006, the U.K. and Ireland celebrated World Book Day—a charity event focused on encouraging children to read—by making a list of the top 10 happy endings of all time (link courtesy of The Free Online Library). The top 5 are all on the 50-books list:
5. Rebecca by Daphne du Maurier
4. The Curious Incident of the Dog in the Night-Time by Mark Haddon
3. Jane Eyre by Charlotte Brontë
2. To Kill A Mockingbird by Harper Lee
1. Pride and Prejudice by Jane Austen
The only one I haven't read is Rebecca (blog post pending for both Rebecca and To Kill A Mockingbird), but I'm willing to bet something about that happy ending—there are absolutely no promises about a happy beginning or a happy middle. That's the case with the other four novels, perhaps especially with Charlotte Brontë's Jane Eyre.
---
Jane Eyre's childhood is full of abuse: she is the unloved adopted orphan of her home, attacked, terrorized, defamed, and ultimately cast aside by her family. She falls back on her resolve and determination, which may get her into trouble, but never makes her sacrifice who she is.
As she grows up and leaves school, she finds a job caring for the daughter of a rich man, Mr. Edward Rochester. Jane and Mr. Rochester discover their love for each other—but, of course, there are complications that threaten the future of the relationship. For what it's worth, as we already know, there's a happy ending.
---
Jane Eyre isn't simply about a romance—its focus on class and gender issues help it stand out, much like Pride and Prejudice a few decades earlier. I might argue that Pride and Prejudice carries wit and wordplay, thanks to Jane Austen's style, but it's only an interesting comparison.
However, there is something Jane Eyre has which Pride and Prejudice lacks . . . something I did not at all expect—horror. The mansion where Jane cares for Mr. Rochester's daughter is, for lack of a better word, haunted. Sudden fires threaten to burn the place down, and eerie laughter can be heard through the halls at random times. The secrets of Mr. Rochester's past endanger the lives of his staff and his daughter, giving the novel a sense of urgency, foreboding, and distrust—even in the happiest of scenes.
From a feminist standpoint, I think the idea is that there's a particular horror for women trapped in social conventions designed by men. Jane seems to live her life entirely as a rebel, if only for the sake of remaining good and true to herself. But this is Victorian England—there are consequences when you choose to unreservedly be yourself. The consequences for Jane have something of a supernatural flair, making the novel that much more interesting. (The same Gothic influences appear in Wuthering Heights by Emily Brontë, Charlotte's sister—blog post pending.)
---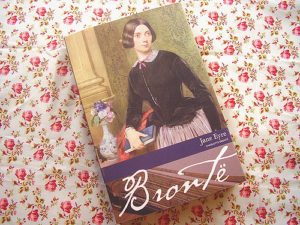 But, Gothic influences aside, what makes this story great is Jane herself. She is an excellent heroine, knowing and understanding who she is and what she deserves. She faces the consequences of her actions, refuses to let her emotions cloud her judgement, and defends her body, spirit, and worth in the face of anyone who hurts her. Even when it costs her everything, she does what any person is supposed to do—she respects herself.
This may make her sound too fierce, or even too heartless to develop relationships with others, which couldn't be further from the truth. Jane is also compassionate, grateful, and caring to everyone. Her childhood hardships could have hardened her, but instead, they made her more empathetic and kind; not many others could boast the same. Jane is the epitome of a good person in charge of their destiny, which is a rare find.
---
It's been a while since I enjoyed something as much as Jane Eyre (besides Ulysses, that is). It is a really good story, and at the end of the day, that is the best thing a novel can offer.
My next book is The Great Gatsby by F. Scott Fitzgerald. I have read it before, so I already know what I'm getting into—a really good story.
More on that next time!
Prof. Jeffrey