Good morning, class.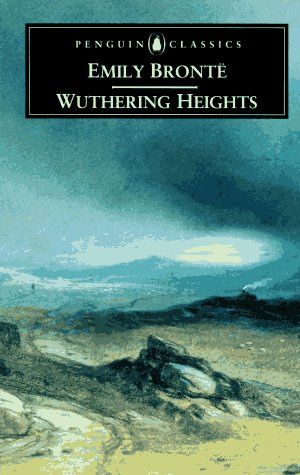 It's easy to see the similarities between Charlotte Brontë's Jane Eyre and her sister Emily Brontë's Wuthering Heights. In both stories, the swampy moors of the English countryside set an atmosphere of oppressive weariness and longing. The romances tracked in both novels have drama seeping through the pages—lies, betrayal, terrible passion, and a man too mysterious to ever fully trust.
But I think it's easier to talk about Jane Eyre, at least in terms of plot—our heroine Jane begins as an orphan, and we follow her journey into adulthood and into her romance with Mr. Rochester. Wuthering Heights is much murkier. Instead of any hero, we get a cluster of characters surrounding the villainous Heathcliff, one of the more disgusting characters I've ever read in a novel. He enters the narrative, destroys almost everything around him, and remains a mysterious stain on everyone's happiness until the final pages of the novel, where a happy ending barely scrapes by from the debris in his wake. And so Wuthering Heights leaves its mark.
---
The main narrative follows Heathcliff and Catherine Earnshaw in a tortured romance. Heathcliff is brought back to the Wuthering Heights estate as a child by Mr. Earnshaw, where he meets the young Catherine and her brother Hindley. They grow up together, and Catherine and Heathcliff realize their attraction to each other, but obstacles get in the way. Heathcliff runs away, and Catherine decides to marry their neighbor Edgar Linton instead. When Heathcliff returns, he has enough money to enact revenge on those who kept him and Catherine apart.
Heathcliff swindles Wuthering Heights from Hindley (and from Hindley's son Hareton) while marrying Edgar's sister to punish both Edgar and Catherine. They each have children: Linton is Heathcliff's son, and Catherine's daughter is named Catherine (simply to confuse matters further). The elder Catherine dies while giving birth, and Heathcliff prays that her soul never rest—that she haunt him until he dies.
Fast-forward about 18 years, and Hareton, Catherine, and Linton have all grown up. They are the product of tortured love, revenge, and heartbreak, with Heathcliff the only surviving member of the first generation. Without giving too much away, the three of them try to right the wrongs of the past and revolt against Heathcliff's tyranny—to be what their parents couldn't be.
---
Heathcliff is the reason to read Wuthering Heights. I called him one of the more disgusting characters I'd ever read in a novel, and that's because there so much villainous life breathed into him by Emily Brontë that he's stood the test of time. His origins are unknown—both his heritage and his means of getting money—and hatred seems to come easier to him than love.
His relationship with Catherine is simply a mess. They seem to enjoy each other in childhood, both a little more unkempt and uncontrollable than most children. As outsiders they grow fond of each other. But in adulthood they punish each other as signs of love. They wrap up the Lintons into their mess and ruin the Lintons' happiness—Edgar is in a loveless marriage and must compete with Heathcliff's rage, while his sister Isabella is tricked into marrying Heathcliff who cares nothing for her.
After Catherine's death, Heathcliff regularly digs up Catherine's corpse and cries over it. He is ultimately disgusted with his son Linton and forces him to marry the younger Catherine so that he can inherit Edgar's estate. Without a doubt, Heathcliff is a nightmare. Characters speculate if he is some kind of demon or imp. He has no pity for the people he hurts and delights in suffering. His obsession with Catherine is only matched by her obsession with him, and the only real question about his motivations is whether or not their relationship does more damage than he himself does.
Is Brontë's writing strong? Absolutely—ahead of its time, even. Is the story worth reading? I'd say so—the plot is intricate and chaotic, in the best way. But Heathcliff is what makes Wuthering Heights special, and he's why it made the list.
---
I like to think there isn't a moral to the story, but if there is one, it's about a bad kind of love vs. a good kind. The bad kind of love is the one that destroys and poisons, that's so passionate and full of emotion that it can't survive. Then there's a patient, practical love—one that doesn't hurt, and yet still wins out against obstacle. The love between Heathcliff and Catherine is destructive, but maybe the next generation can share a better love, despite the effects of the the generation before.
---
Up next, I'm reading E. M. Forster's A Passage to India—one of the few books on the list I've never heard of before. Let's hope it's good!
Prof. Jeffrey