Good morning, class.
The 50-books list doesn't provide a lot in the realm of horror. Sure, there's Frankenstein and Hamlet, which both at least count, and even my current book The War of the Worlds portrays the horror element of classic sci-fi. But still, I don't see much that's horror, first and foremost.
There could be a good reason for that . . . horror is usually low quality; cheap thrills, shallow characters, bad storytelling. But there are exceptions to the genre, and Stephen King proves that with The Shining—so much so that it deserves a place on the list of books you should read before you die.
---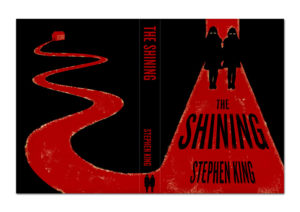 The story: a small, struggling family watches over the Overlook Hotel through the winter, as supernatural forces try to tear them apart. The father's alcoholism leaves him vulnerable to the violent spirits in the hotel, and he becomes monstrously abusive. His wife tries to protect their little boy, who just happens to have the ability to communicate with the spirits around them—an ability called shining.
It's a bad situation . . . and bad becomes worse. They are trapped by the snowstorm in a maze of a building that is crawling with fear, paranoia, rage, and evil. Of course, with Stephen King as the writer, tension smothers every page.
---
King's novels are not high literature, in my opinion . . . but this is more compliment than complaint. Of the handful that I've read, his novels don't have that air of pretentiousness found in most English-class pieces of literature. He is an entertainer, and he performs really well with tools like horror and suspense.
He's said that his ideas are situational; the what-ifs inspire the story. "What if . . . a family is trapped in a haunted hotel?" Everything stems from that. So his characters are like pawns in a chess game, and we wait to find out who wins, who is sacrificed, and who makes a narrow escape. One of the reasons King's stories are so well-received is because his approach is both the key to successful suspense and the essence of storytelling: the question "what happens next?"
---
If there's any reason The Shining shouldn't be on the list, it's because horror isn't for everyone. I might agree, if it wasn't an amazing novel. The Shining handles fear in a way that is important to experience—fear of people who we think love us; fear of people who are under something else's control; fear of large and imposing forces, and conquering that fear not through blindness or ignorance, but through courage and accepting fear.
Because The Shining handles fear better than any other book I've ever read.
---
It is important to mention that the abusive father character is spending most of his time trying to write a novel, and meanwhile Stephen King has suffered from alcohol abuse. So King isn't approaching these characters by glorifying a real social problem. In fact, he's pouring out his soul. That might be the one common denominator between all great works of literature. Food for thought.
See you next time.
Prof. Jeffrey