Welcome back, class.
I've been back and forth on this one—there have been times when I couldn't stand this play. But no matter if I like it or not, this Romeo and Juliet really deserves to be read by everyone, if only for the lesson it teaches—don't let yourself be carried away by the passions of youth. That's absolutely why we all read it in high school: so that our English teachers could remind us not to throw our lives away on "young love" and hurt others in the process.
Thankfully, the story is more than that—it is Shakespeare, after all.
---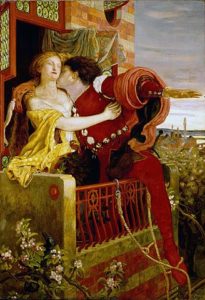 It's a story old as time—two teenagers, Romeo Montague and Juliet Capulet, become instantly infatuated with each other at first sight, even though their families are involved in an ongoing feud. They decide to get married, and in a complicated plot to get their families to stop fighting, Romeo kills a man and is banished, Juliet pretends to die to get away from her family, Romeo thinks Juliet is really dead and kills himself, and Juliet kills herself shortly after. Tragedy abounds.
People like to call Romeo and Juliet the greatest love story of all time, but the main characters are senseless, hasty, and melodramatic in their so-called love. It is an infatuation between two teenagers, built on feelings alone—not dependability, companionship, compatibility, rationality, or forethought.
Shakespeare makes them sound much less one-dimensional than my analysis, so the story is much better than that. His writing throughout Romeo and Juliet is romantic and beautiful, which helped Romeo and Juliet stand the test of time. But I also bet Shakespeare new exactly how dumb his main characters were, as they took their own lives for each other for the sake of what looked like love, but was actually a crush.
---
Shakespeare also gives his main characters a little credit when it comes to their families, which are pure chaos. The Montagues and Capulets are little more than rival gangs (hence the adaptation with a twist, the musical West Side Story), and they give Romeo and Juliet little choice but to marry in secret. Even the Friar that marries them has an ulterior motive—to unite the families through this marriage, end the feud, and stop the constant violence in the streets. The lesson to learn from Romeo and Juliet isn't just for the children, but for the rest of the Montagues and Capulets that let passion guide their hearts towards violence.
That lesson—don't let passion carry you away, for the sake of love, violence, etc.—is important in its own right, but I'll admit it can diminish the story too. It's easy to talk about Romeo and Juliet now, having read it almost 10 years ago, but no matter how much I made fun of it or hated reading it, it was one of the first real tragedies I'd ever read. The two main characters are partly at fault for their fate, but so are their families. This is a story about two people who committed suicide when there were so many other options available . . . all because they had dedicated their lives to a person they had known for less than a week. It's infuriating and depressing, and a careful reminder of how far our reckless hearts can force us to go. In some twisted, backwards, cynical way, I think that makes Romeo and Juliet required reading for everyone.
---
But if that's not a good enough reason for you, I've got at least one more—Romeo and Juliet is everywhere. There are references to it in so many books, movies, TV shows, short stories, and poems that everyone deserves the chance to read it just to pick up on the subtleties of half of all art. Since teenagers with crushes is one of the most universal human stories in history, it's applicable in every medium. On the list of the 50 Books alone, Romeo and Juliet is featured in one major form or another in Wuthering Heights, The Great Gatsby, Brave New World, The Way We Live Now, Huckleberry Finn . . . just to name a few. Romeo and Juliet pervaded the cultural landscape and staked it's claim on teenagers with feelings, and everything that came after is a reflection of the original Shakespeare.
All in all, I may not like Romeo and Juliet all that much, but that makes it no less important. It deserves to be on the list of 50 Books to Read Before You Die, and there are several books worth kicking off to make room.
---
I'm finishing up Sebastian Faulks' Birdsong, which I'll write about next. Romeo and Juliet may be a better "love story," but Birdsong is, in its way, a better story about love. There isn't as much warning against runaway passion, but Birdsong seems more dedicated to the idea of love bringing people together, even in ways society looks down upon. Had Romeo and Juliet been stronger characters, it's possible their long lives would have looked like the tortured lovers' lives of Birdsong—but I'm getting ahead of myself. More on Birdsong next time.
Until then,
Prof. Jeffrey