Good morning, class.
I've made it to the final book on the list—Frankenstein by Mary Shelley. There are parts I like and parts I don't like, but one thing continues to stand out to me: Frankenstein is considered by many as the birthplace of science fiction. The genre has a reputation for being male-dominated—as though Star Wars and Jurassic Park are only meant for men—and yet, science fiction seems to be established by a woman. It's a reputation perpetuated by sexism and confounded by Frankenstein's very existence.
---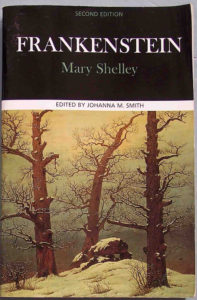 The blueprint of the story is well-known, even though the details have been undone and remade over two centuries of reinvention. An ordinary man, Victor Frankenstein, sets himself to the extraordinary task of creating life, and in a way, conquering death. He becomes a now-stereotypical mad scientist, unrivaled in determination and unthinking of consequences; and his creation is much more monstrous than he anticipated. The monster, sympathetic as he is, rampages through Frankenstein's life until a devastating climax, and we readers are meant to learn our lesson: mindless ambition, even for the right reasons, can cause serious harm.
The original story is much more literary than it's several reimaginings. It's framed in a handful of narratives and allows for different perspectives on morality, fault, religion, and science. Most importantly, the monster himself is a fleshed-out character—thinking, learning, and speaking monologues on par with Frankenstein himself. It may not be realistic, but it's the key to understanding who this creature is, what he wants, and why he acts the way he does.
The monster may be terrifying, but he is equally a victim of humanity's abuse and hatred. It's made very clear that the monster's villainy exists because he has known nothing but misery—he was never loved, and that makes him as evil as he is. He is rejected and feared by all, and to defend himself, he quickly learns to fight back against those who mean him harm. He learns the ways of violence and revenge to survive, and the blame is traced back directly to his creator.
---
It's a fantastic story, and a revolutionary concept. But it isn't my taste—it drags on quite a bit, with Frankenstein's inner turmoil egregiously taking up most of the story. The middle of the story—about 7 chapters—is told from the monster's perspective, and while I appreciate the narrative need for this section, it's just so tedious. I want the storytelling approach to be different, so it's hard to enjoy the book, even with so much to like.
But after all this, there so much it does that redefines science fiction. My favorite interpretation of Frankenstein portrays Victor as a sexist (and knowing that Mary Shelley's mother is Mary Wollstonecraft, author of A Vindication of the Rights of Women, this holds up well). Victor's approach to creating life removed any female presence, as though in his eyes, creating life should be a male enterprise. The resulting monster is one made without female influence, and it's Victor's manly actions that continue to antagonize the creature, the consequences of which are irreparable. With Frankenstein, Shelley defined sexism through a male lens (as a story told by a man) and she proved that the simple act of excluding women results in disaster.
It's clear why Frankenstein makes the 50-books list. It's Gothic literature at its core, and science fiction before science fiction existed. It's a story that stood the test of time and continues to affect its genre. And no matter my taste, it is a good story—one worth reading at least once.
---
That's 50 books! This blog is nearing its end, and I've got to more posts to write—my definitive ranking of all 50 books, from least favorite to favorite, and one final review of my experience as a whole. And that'll be it!
Thanks for reading,
Prof. Jeffrey