Hello again, class.
Everything about Brave New World that depresses me is something that gives me hope in Lois Lowry's The Giver. It's the same futuristic society, heavily medicated and rid of all the emotions that plague humanity; but there's room for change. There's a hero with the emotional strength and the courage to do what he thinks is right, and there's the tiniest cracks in his perfect world for him to slip through, allowing him to succeed. If Brave New World were like this, it probably wouldn't be as impactful or important.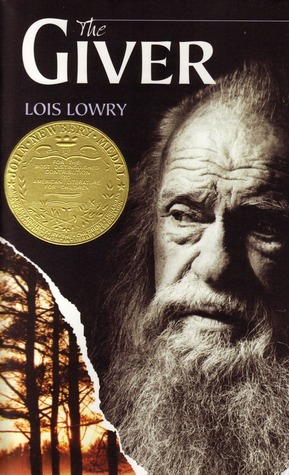 Thankfully, the comparisons between Brave New World and The Giver end there. For all its similarities, The Giver is actually something quite different, and that's why I think it should make the list of books to read before you die.
---
Jonas is a regular 12-year old kid in this futuristic society. At 12, children go through a ceremony designating them to a role in the community—Nurturers, Instructors, Pilots, Birthmothers, Laborers, etc. At the ceremony, Jonas is chosen as Receiver of Memory, a rare assignment. He is to spend every day with a older man known as the Giver, and eventually take on his duties.
Jonas's sessions with the Giver involve the transfer of memories—the Giver gives them, and Jonas receives them. They are the memories of humanity . . . things that Jonas's community has purposely removed, which only the Giver and Receiver of Memory are allowed to hold. Memories of war, terror, grief, depression, violence . . . but also memories of elation, passion, joy, and love. Even colors have been removed from people's minds because of what they can do to destabilize society.
Eventually, Jonas begins to see through the cracks. He realizes things should be different, but that won't happen while everyone else is happy—which, as he comes to understand, really means that everyone is medicated, lied to, and ignorant of the mistakes they are making. And that's when the action really begins.
---
The Giver is the first book in a series, and I have yet to read the rest; I hope they are just as amazing as this first entry. For me, The Giver is special. In the same way that reading Brave New World in high school challenged me to read uncomfortable adult literature, reading The Giver in middle school challenged me to imagine literature that wasn't neatly tied up to perfection. The Harry Potter series, for example, looks like a magical explosion of chaos, but underneath is J. K. Rowling's carefully constructed artistic mechanism. But Lowry does the opposite: the world she creates is perfectly ordered, but underneath that is humanity trying to break free.
This is best shown by the ending. Where Harry Potter ties up at least 99% of its loose ends, Lowry leaves the ending of The Giver as open-ended as children's literature will allow. The action isn't resolved, the mystery of Jonas's choice remains a mystery, and there's only the possibility of hope that Lowry just barely lets readers see before ending the narrative. Sure, there are other installments in the series, but it's still a daring creative move that did a lot to twist my reading habits.
And that's the point of The Giver: to give young readers an idea of a perfect society, and to tarnish it; to show readers that perfection, if achievable, is not good. Perfection can actually be what hurts humanity most of all. Our imperfection is better for us in the end.
---
The fact that Lowry tackles these themes in a book for children makes it all the more powerful. The attempt to teach children themes like these undermines the discomfort of Brave New World because it drives the point home sooner. The particular discomforts of Brave New World outshine The Giver by far, but The Giver gets the chance to show children how to change the world before they realize it needs changing. The book is dedicated to all children, "to whom we entrust the future," which says a lot about Lowry's aims. Just another reason why everyone should read it.
As a reminder, next week is my post on Wuthering Heights! Make it to class on time!
Prof. Jeffrey