Hello again, class.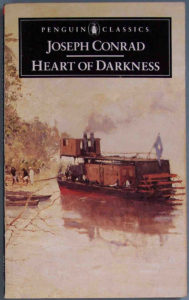 Heart of Darkness is controversial. It is a novella about Africa, written from the perspective of a European. It's a story about the "lesser people" of Africa, the "civilized countries" attempting to conquer it, and the darkness men can succumb to in the attempt.
When I read it first, it was hard enough to simply follow the plot because it was so dense. The second time I read it, I felt as though I had conquered it myself—the fact that I could understand it was enough for me, and I dug no deeper into the racism and prejudice that was there. What I did notice, I excused with "it was a different time", and that's a sufficient defense for most art.
But I studied the novel a third time to write this post . . . the racism was much clearer than I remembered. Words like "savages" and "rudimentary souls" describe the people of a conquered continent, and scenes depict them worshiping a white man mad with power. Africa is shown as a backwards and evil land that corrupts the noble European cause—in the context of Heart of Darkness, that cause is stealing African ivory to sell back in Europe.
There's no beating around the bush—racism is rampant throughout Heart of Darkness. My goal with this post is not to point out every racist moment in the story, though that's a worthwhile cause. I think it's more important to talk about why this book made the list of 50 Books to Read Before You Die, and whether or not the story's racism had something to do with it. The reasons behind the story and it's placement on the list may not be as important as the reasons we still read it today . . . maybe that makes all the difference.
---
Heart of Darkness opens with Marlow, a man with a story to tell about his time in Africa. He was sent there by a European company to investigate what happened to a man named Kurtz, one of the company officials. Marlow must journey into the heart of Africa in the hopes of finding Kurtz, and the further in he goes, the more "savage" things become.
It's not an adventure story, with epic battles or a heart-warming quest. It's a disturbing journey, and we're meant to hope Marlow turns back before it's too late—in the same way that it's too late for Kurtz, corrupted by the darkness of the environment. The longer these men stay in the heart of this dark land, the closer they are to reverting to savage ways—the ways of the African people.
This is the flaw in the story. To believe that civilized people are in danger of becoming savages by being around a continent full of savages, is to simultaneously demean a diverse group of people as uniformly savage (for differences of culture and skin color) and to antagonize that group of people as threats to one's own standard of civilization. In Heart of Darkness, Africans are seen as slow-minded, low-born, and weak-spirited, and by some twisted logic they happen to have the ability to corrupt civilization elsewhere.
---
So why read Heart of Darkness? Easy: it's written beautifully. I haven't read a lot of Joseph Conrad's work, but everything I've read by him has been just short of magical. It may be dense, but Conrad's writing is unmatched. Knowing that English is not his first language (it's his third language) makes it clear that he was a master in his craft. His words deserve to be read, and Heart of Darkness is some of his strongest writing.
The problem, of course, is the content. If his other novels are written just as well, and are less problematic, wouldn't those be better choices for the list? The controversy surrounding the novel (similar to the controversies of Huckleberry Finn) have made Heart of Darkness more famous, so that's something—as if Heart of Darkness is the "gateway" to Conrad's other works.
But if we're to look at Heart of Darkness just as it is—if we focus on the story, rather than how it's told or what it means—we get a pretty good idea of the evils of colonialism. Instead of reading Heart of Darkness and chalking up the apparent racism as byproducts of a "different time," we can study the racism of the past—in all the glory of Conrad's beautiful prose—to understand the racism of the present. The best way to read Heart of Darkness is as a historical artifact—appreciation with a grain of salt—and in that form, it deserves to make the list.
---
Next up is the final book on the list—Frankenstein by Mary Shelley. I didn't like reading it in high school, but I went in prejudiced against it—it didn't match the Frankenstein myth of a reanimated corpse-turned-zombie, and it lost all its cool-factor. I hope I read it this time with more open-mindedness. But more on that next time.
Until then,
Prof. Jeffrey