Hello again, class.
I started The Golden Compass, the first book in Philip Pullman's trilogy, months ago. Within a few chapters, though I barely knew the characters or the world Pullman had built, his writing drew me in—in a way that hasn't happened with me since I read Harry Potter. Pullman's teenage fiction novels are written like poetry.
I finished The Amber Spyglass, the third book in the trilogy, a few days ago. The series as a whole is controversial, intoxicating, and jaw-dropping in all the ways sci-fi and fantasy should be—it completely surpassed my expectations. I can think of hundreds of reasons why this book series made the list.
---
The story follows Lyra Belacqua, a young girl with a propensity for lying and storytelling. She lives in a world a lot like ours, with a few key differences—one being that every person is born with a daemon, a spirit-like animal that acts as a conscience. Lyra, with her daemon Pantalaimon and her friend Will Parry, gets caught up in a peculiar adventure, involving a kingdom of armored bears, a clan of witches hundreds of years old, a mystical truth-telling compass, a series of otherworldly portals, and a cast of characters with dangerous and obscure motives.
For all the plot over three heart-pounding novels—The Golden Compass, The Subtle Knife, and The Amber Spyglass—Pullman never forgets the carefully structured theme of innocence in the face of corruption. Of all the enemies Lyra faces, the corrupt Church is probably the most intimidating. The Church of Pullman's universe is overbearing, manipulative, and full of subservient agents who will do anything in the name of the Authority.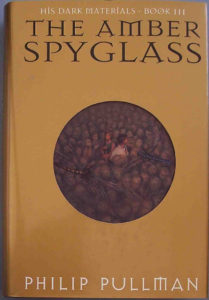 But for Pullman, it wasn't enough to point out the corruption of religious institutions—his novels attempt to reveal corruption in the existence of God. He writes about the ongoing battle of humanity, between those who humbly submit to a greater power and those who seek wisdom and refute oppression. His novels point out the inherent immorality of a Kingdom of Heaven, like the immorality of any dictatorship in the modern age. The overarching plot of the trilogy goes so far as to use Christian theology (and mythology) to dismantle the Christian story of God—portraying God as the villain of humanity's ongoing battle.
---
Naturally, the His Dark Materials Trilogy was met with controversy. Pullman's story isn't just atheistic (which can be controversial by nature)—it is also mature, saturated in sci-fi violence, and marketed for a younger audience. It's probably still banned across the globe.
The trilogy makes a strong case for atheism, which was hard for me to read, but also helpful in my understanding of life outside of religion. I grew up with religion in my life, and I've come to accept those that don't have religion in theirs—it's simply not for everyone, and that's a hard lesson to learn. I started reading The Golden Compass with something like a religious bias, and it made me read everything Pullman wrote with a grain of salt.
That doesn't stop me from agreeing with most, if not all, of Pullman's criticisms of the corrupt church he is familiar with. Religion has a history of abuse that cannot be dismissed, and those that choose to live with religion must always be aware of the power, and therefore the corruption, that religious institutions have a tendency toward. Aware of that corruption, Pullman pushes back against religious institutions through these novels—through literature, popular culture, and the education of young minds. Children will eventually have to make their own theological decisions in the real world, and books like the His Dark Materials trilogy can be a healthy part of making those decisions.
---
Like I said, these books were hard to read at times (I work at a church, for crying out loud!) but it certainly helped that these books were well written. It always impresses me when books have strong messages delivered by strong characters, and a fantastic fantasy world to back up big ideas. For a novel to work, all of the separate puzzle pieces have to fit together well, and the completed puzzle has to leave an impression. These three novels did both.
My next read is Memoirs of a Geisha by Arthur Golden, and I'm diving into this one cold. I can only hope it's good!
Have a good week!
Prof. Jeffrey