Hello again, class.
Last week, I talked about Harper Lee's To Kill a Mockingbird, which for over 50 years was the only novel she'd published. It's fitting, then, to talk this week about the other novel she worked on with friend and author Truman Capote. Though she isn't credited as an author, she had a significant hand in creating In Cold Blood, a non-fiction novel about the 1959 murder of the Clutter family in Holcomb, Kansas. It's an amazing novel that, I think, should make the list of books to read before you die.
---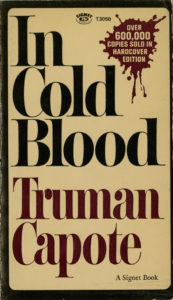 Capote and Lee went researching after the murders were committed to tell the story: Herbert and Bonnie Clutter, and their two youngest children Nancy and Kenyon, were killed on November 15, 1959 by Dick Hickock and Perry Smith. The novel follows the murderers, the victims, and the rest of Holcomb leading up to and following the crime.
This isn't simply a review of the facts, however; just like Lee, Capote has a knack for beautiful writing, and that's partly why it should make the list. The expressive detail used in writing the book transforms a crime into a story—one that delves deep into the psychosis of criminals and the darkest elements of human nature. Like the best of the based-on-a-true-story genre, In Cold Blood takes the interesting, the mundane, and the twisted events surrounding this mid-century mass murder and makes prose.
In Cold Blood is also one of the first novels of its kind: creative nonfiction. Capote isn't the first writer ever to write facts of a crime in a creative way, but he may be the first to do it in novel form. The nonfiction novel is unequal parts journalism, invented dialogue, history, and entertainment—real events told in both fictional and factual ways, which Capote had done better than anyone before.
---
In Cold Blood is also criticized for this core concept—the reputation and financial success of both Capote and his novel stem from a real tragedy, which he used for the sake of art and his own personal gain. It says a lot about people who read the novel, too; how much are we glorifying violence or celebrating crime by buying his book, praising its achievements, etc.? The novel reveals the darker side of human nature not just from within the story, but from its margins as well.
That's exactly why In Cold Blood should be read and studied: it's culturally, psychologically, and artistically significant to our time. On the surface, it is a well-written and enjoyable crime drama. But underneath that is a lens that shows how far humanity is willing to go for fame, money, or even a good story. Underneath that still is a rather unnerving mirror.
---
Speaking of the darker side to human nature, I'm halfway through Lord of the Flies, and those children are terrifying. There are plenty of reasons that novel made the list . . .
But more on that next time; thanks for making it to class!
Prof. Jeffrey